OLUF SUNDFÆR
DATAKURS
«Pappas firma hadde agentur på Fortunes stormaskiner og selskapet hadde hovedkontor i Monaco. Jeg traff min kommende ektemann i Computer Standard. Han jobbet for Pappa mens jeg hadde arbeidsuker og vaskejobb, Min tilkommende trodde at jeg, i tillegg til å være den rike sjefens datter, var flink til å vaske. Han falt pladask og gikk fem på.. Pappa var ikke så rik. Det var jappetid og bankene kastet penger etter alle firmaer. Pappa tok likevel hele familien med på konferanse i Monaco. Det kom forhandlere fra hele verden, men ingen hadde med seg så mange ansatte som Pappa fra Norge. Fortune spanderte mye. Pappa resten. Vi bodde på Hotel Hermitage hvor det kostet 2000 franc per natt per rom. Jeg var 18 år og vi gikk på rød løper ut av hotellet mens turistene så på oss.. Det var dyre raske biler, cabincruisere og alt, men mest av alt har Pappa jobbet, jobbet og jobbet. Slik var databransjen i jappetiden. Lene Haug. Datter»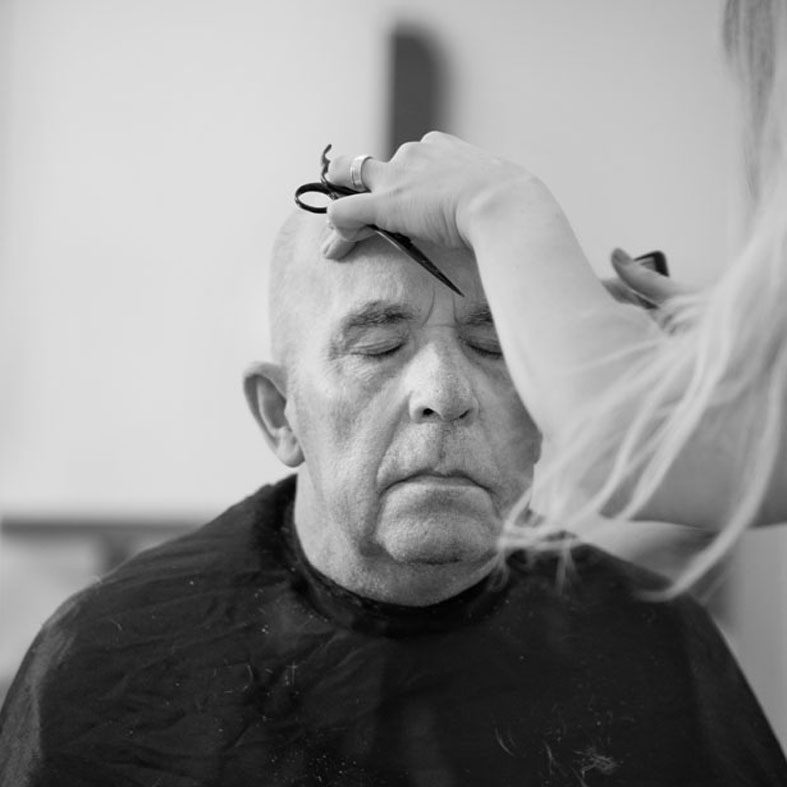 OLUF ALBERT SUNDFÆR(f.1945-)
1971
Dataingeniør
Datakurs
Berg en Dal, Nederland
2012
Hos frisøren, Paulus Sykehjem
FOTO: JO STRAUBE
jostraube.no
IN THE COMPUTER INDUSTRYOluf Albert Sundfær (b. 1945 -)
Computer engineer
Told by his daughter: "Dad's company was an an agent for Fortune's mainframes and
the company's main office was in Monaco. I met my
future husband at Computer Standard.
He worked for dad while I had working weeks and
cleaning work. My husband-to-be thought that as well as
being the rich boss's daughter, I was pretty good at cleaning. He fell head over heels and was
really taken in…
Dad wasn't all that rich. It was the yuppie period and the banks were throwing
money at every company going. Dad still took the entire family to
a conference in Monaco. Dealers came from around the world,
but no one had as many employees with as my dad did from
Norway. Fortune spent a lot. Dad spent the rest.
We stayed at Hotel Hermitage, which cost 2000 francs a
night for each room. I was 18 years old and we walked down the red carpet out of the hotel
while tourists watched us. There were fast, expensive cars, cabin cruisers
and all that – but most of all Dad worked, worked, worked.
That was the computer industry in the yuppie era.
1971
Computer course
Berg en Dal. Netherlands
2013
At the barber's
Paulus Nursing Home
Photographer:
Jo Straube (b. 1983)
jostraube.no
Kommentarer fra Facebook: